Thriving southern destination!
Albany City is vibrant, historic and naturally beautiful! Albany is set among the peaks of Mount Melville, Mount Clarence and Mount Adelaide, and nestled between the waterways of the Princess Royal Harbour, King George Sound, Kalgan River and Oyster Harbour. Albany is a premiere holiday destination only 450km south-east of Perth. The shops and restaurants are varied together in this modern yet traditional south coast city. Albany is surrounded by natural beauty and is a wonderful place to visit throughout the year, although during the summer months and during school holidays it swells with people from all walks of life! Accommodation Books Out Fast!

The Albany Town Hall (photo) is located on York Street, the main street in town which gently slopes toward the Princess Royal Harbour. This University City (UWA Albany Campus) is home to over 30,000. This family friendly destination offers great cuisine, a good range of boutiques and high street stores and all set with an impressive historic seaside backdrop! There are Outdoor Adventures galore and lots of ways to explore the peaceful and beautiful surrounding cliffs, rocks, beaches, oceans, forests and bushland.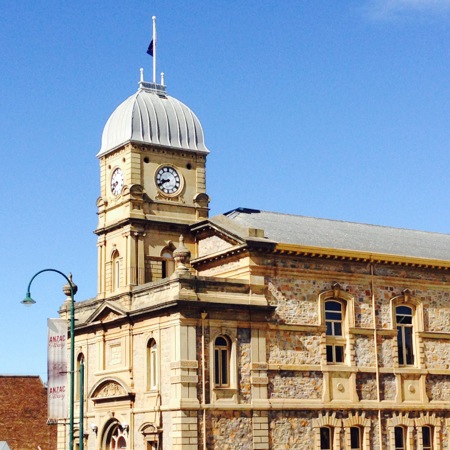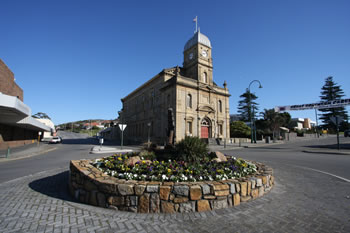 Visitors to Albany
Albany is well regarded for its natural beauty and preservation of heritage as the oldest permanently settled town in Western Australia, before Perth and Fremantle were settled.

The city is alive with the arts, with a live music scene. The state of the art Albany Entertainment Centre attracts International and National artists!
This bustling seaside location attracts leisure and business visitors alike and has been used for movies and TV productions!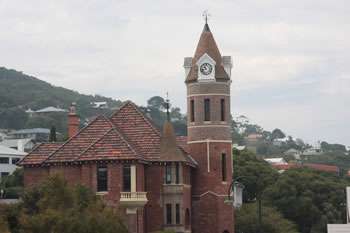 Old Albany Post Office Tower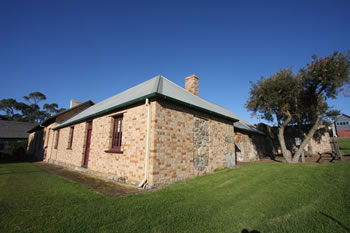 Albany Old Gaol and Museum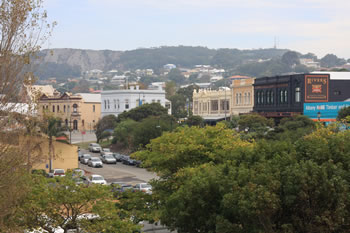 Albany is a beautiful city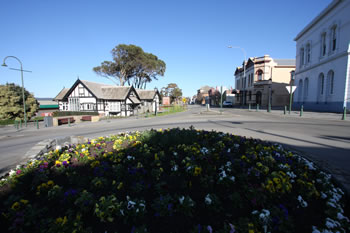 Albany Historical Precinct
Rich with History
Many of the original colonial buildings are now museums, restaurants and galleries which add to its uniqueness. Albany is Western Australia's first European settlement (1826).
Popular Destinations:
Albany's First Settlement
Albany was the first official settlement of Western Australia and it was also the departure point from which the ANZACs left for Gallipoli.

Albany's History and Photos of Albany pre 1918.

Albany has a number of historic sites including: the Albany Heritage Park, National ANZAC Centre, Princess Royal Fortress (commonly known as The Forts), Patrick Taylor Cottage, (the oldest dwelling in Western Australia, c1832), and the replica of the Brig Amity ship.

There is a memorial to the ANZAC Desert Mounted Corps on top of Mount Clarence, this was also where the first commemorative dawn service was held on 25 April 1923. A dawn service has been held ever since.
Albany is truly a harbour city filled with character and charm!
We acknowledge the Noongar people who are the traditional custodians of this land and pay our respects to Elders, both past and present.
Albany and the ANZACs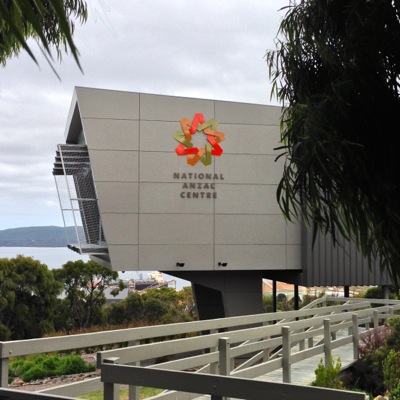 Visit the National ANZAC Centre or Desert Mounted Corps Memorial.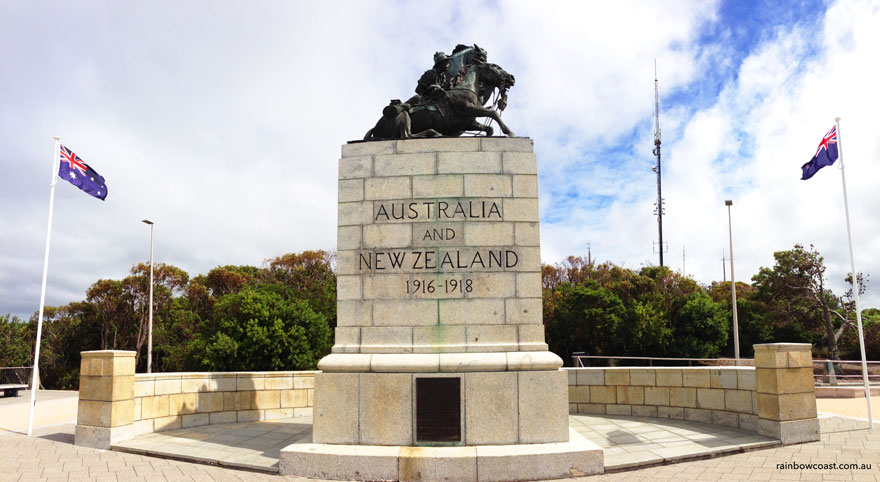 The Albany Region is a land of natural beauty

Albany's National Parks
Torndirrup National Park is home to the Gap, a 24 metre sheer cliff drop to the ocean and the Natural Bridge, a large granite rock, eroded to form an archway. The lookouts at both locations provide outstanding Southern Ocean views to West Cape Howe. Other notable lookouts and walk trails in the park include Jimmy Newells, Blow Holes, Salmon Holes, Misery Beach and Stony Hill. Fees apply.

West Cape Howe National Park has the southern most point of Western Australia and makes up the most westerly tip of the Great Australian Bight. This wilder area attracts campers, bushwalkers and fishermen and women. There are few facilities provided. The coastline of the National Park is dominated by sheer cliffs, rocky headlands, bush terrain and white secluded sandy beaches. Shelley Beach Lookout is a famous paragliding launch spot! Fees apply.

Gull Rock National Park is a small National Park situated 25 km southeast of Albany. It offers excellent views of King George Sound, the shipping lanes and Michaelmas Island just offshore.
Two People's Bay National Park has much to see and explore including Little beach, Waterfall Beach, Sinker Reef and the Two People's Bay Heritage Walking Trail. The Visitors Centre is informative with a small gift shop. Picnic tables and toilets are located a short walk from the car park.

The Annual All Parks Pass is extremely good value for money for extended tours or if you visit parks throughout the year.You can buy a park pass online and print it at home. When you are in a park that has entry fees, simply display it in your vehicle windscreen.
Beaches in and around Albany
There are many beaches surrounding the City of Albany, with Middleton Beach being the most popular, and the closest to the town centre, there are toilets, showers, , a children's playground, cafe and restaurant. This end of Middleton Beach is Ellen Cove.

View the Albany WA Beaches Map for all the Albany Beaches.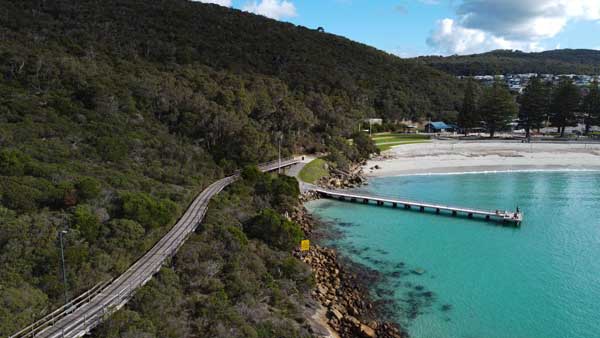 Middleton Beach, Albany, Western Australia
Whales visit Albany yearly
Albany is one of the best places in WA to venture out for day trips to see whales in the Great Southern Ocean.
Despite Albany's whaling past, the Humpback and the Southern Right Whales use the sheltered southern bays for mating and raising their calves.
Whales are frequently spotted from the lookouts between May and October.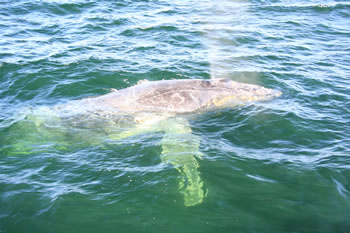 Bibbulmun Track Begins and Ends
Albany is the southern terminus of the Bibbulmun Track walking trail which goes North and ends close to Perth City, WA.
The Albany Wind Farm has 18 impressive turbines looking out over the Southern Ocean and across the Bibbulmun Track.
Wind Power
Over 200,000 visitors come to see the 18 spectacularly located eco-friendly wind turbines which sit proudly 65m high and 80m above the Southern Ocean. The 2 adjoining wind power plants, Albany and Grasmere together produce a capacity of 35.4 MW of electricity, 80% of Albany's total electricity needs! Pretty Impressive!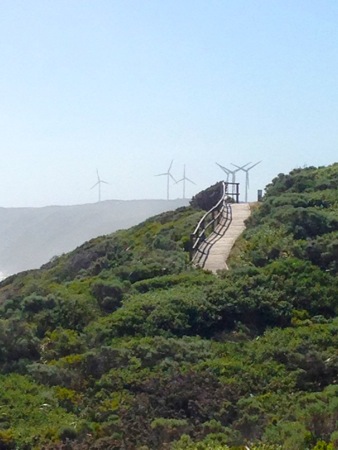 Albany Australia Attractions
Albany Australia is a very popular destination for Western Australians during school holidays, long weekends and getaways.
Albany is peaceful, safe and naturally beautiful... an vibrant environment with entertainment, history, delicious cuisine and a range of fabulous accommodation to suit everyone.
Torndirrup National Park Attractions:
Attractions in Albany and surrounds:
Accommodation in Albany Australia: